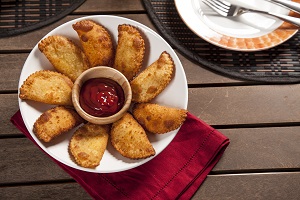 Chilis: Brilliant burgers and sizzling sides
If you've never tried Chilis American Grill & Bar before, now is the time to try. Thanks to foodpanda, you can enjoy authentic American fare from the comfort of your own home. From mouth-watering mains and burgers filled to the brim with incredible ingredients, to some of the finest fries and sizzling sides in Singapore, you'll never be short of ideas when you take a look over the Chilis menu. Our foodpanda experts have tried and tested this first-rate menu and given it our seal of approval, and now you can sample the culinary specialties of this Western restaurant yourself, with easy online ordering and express home delivery. Perfect for when you want to take a night off from cooking duty and indulge your palate with premium Mexican flavours, it couldn't simpler to order when you head to the foodpanda website or download the dedicated app for your smartphone or tablet.
30 min. delivery ✓ $15 minimum order ✓ $6 delivery fee ✓ Accepts vouchers ✓ Online payment available ✓ Order now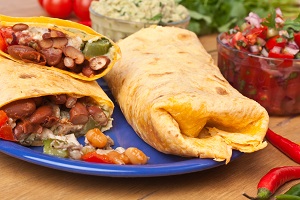 Uncover all Chili's highlights with foodpanda
Chili's American Grill & Bar offers some of the most intense flavor combinations and Mexican meals you'll find anywhere in Singapore and now, thanks to foodpanda, you can enjoy a whole host of premium flavours from the comfort of your own home. Whether you're looking to indulge in a first-class burger and fries, or treat your taste buds to all manner of terrific sides and sundries, you've plenty to choose from. Order today and quash any appetite with a fantastic selection of favourites, including:
Take your pick from an amazing array of appetisers, like Boneless Buffalo Wings, Spiced Panko Onion Rings, Classic Nachos, Texas Cheese Fries or Southwestern Eggrolls. Can't quite decide on what to go for? Why not opt for the Triple Dipper and take your pick from your three favourite starters.
There's a terrific selection of chilis and soups to try. Satisfy your palate with favourites like Chipotle Vegetable Soup, Chicken Enchilada Soup or Beef Chili.
Feeling lean today? Enjoy a freshly prepared salad, with classics including the Sante Fe Chicken, Quesadilla Explosion and Chicken Caesar all ready and waiting.
Enjoy intense flavors with handhelds like the Grilled Chicken Sandwich, Pulled Pork Sandwich or Cajun Chicken Sandwich - all packed full of amazing ingredients and fabulous fillings that'll really hit the spot.
You love seafood? Try the Grilled Salmon with Garlic and Herbs. Prefer chicken? Try the Crispy Chicken or Honey-Chipolte Chicken Crispers, all served with corn on the cob and home-made ranch dipping sauce.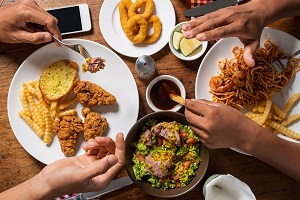 How to order express delivery from Chilis
You're truly spoiled for choice at Chilis, with an A-Star selection of burgers, pasta, veggie meals, meaty mains and smoked ribs to try. There's also a delicious dessert selection to explore for when you want to make a meal out of it, not to mention a fully stocked bar full of your favourite soft drinks, beers and wines.
At foodpanda, our team have sought out some of the most spectacular food on offer across Singapore. Whether you're looking to order in from Chili's, or on the hunt for something extra special for a big dinner or amazing lunch, you're bound to find the perfect food to match any appetite. We've shortlisted some of the most premier menu selections you'll find anywhere in town, bringing you an extensive selection of culinary favourites and exotic flavours for you to enjoy, whenever you want. What's more, thanks to foodpanda, ordering food online has never been simpler. Simply head to the website online, or download the app for iOS and Android and you'll be given a complete list of restaurants serving to your location. Once you've skipped to your favourite or selected a new restaurant to try, simply browse through the menu until you spot something that catches your eye, then add to your basket. Once you're ready to order, you can pay safely and securely online. And then, it's just a case of playing the waiting game. If you're tight for time, don't worry - you'll be amazed at just how quick delivery is on everything you order.
More premium dishes